| | | |
| --- | --- | --- |
| | | |
| | | | |
| --- | --- | --- | --- |
| Poster: | Hashjihad | Date: | Oct 26, 2011 12:34pm |
| Forum: | occupywallstreet | Subject: | Re: Occupy Wall Street Teach-In Library |
You state they are not a credible news source, but can you give any facts, videos, interviews, anything at all to prove they are in fact as biased as Fox news.
http://www.mediaite.com/tv/americans-biased-against-al-jazeera-english-not-if-they-think-theyre-watching-cnn/
http://www.aim.org/media-monitor/al-jazeeras-anti-american-bias/
http://www.frumforum.com/al-jazeera-journalist-calls-out-network-bias
http://www.americanthinker.com/2006/06/is_aljazeera_less_biased_than.html
Here are some articles on AlJajazeera's bias. A quote from Wikipedia
While Al Jazeera has a large audience in the Middle East, the organization and the original Arabic channel in particular have taken significant criticism and been involved in numerous controversies.[99]
In the United States, a poll taken in 2006 concluded Americans in general have an unfavourable view of Al Jazeera.[100]
A widely reported criticism is the unfounded allegation that Al Jazeera showed videos of masked terrorists beheading western hostages in Iraq.[101] When this was reported in other media, Al Jazeera pressed for retractions to be made.[102] This allegation was again repeated on Fox News Channel in the USA on the launch day of Al Jazeera's English service, 15 November 2006.[103] Later The Guardian apologized for incorrect information that Al Jazeera 'had shown videos of masked terrorists beheading western hostages'.[104]
[edit]Anti-American bias
Now if you read all these articles carefully you will realize that they do have some bias. As does every person and news outlet in the world does. To ignore them because of their bias is a total mistake. They have coverage you would never see in the US, this will only expand your knowledge. If you only ever curtail yourself to one set of Bias': I.E. Fox, Wallstreet Journal, Bloomberg, economist, you will never understand the view points of other people an d just dismiss Aljazeera because they are from the Middle East.
Personally I find a mix of Wall Street Journal, BBC, NPR, and Aljazzeera to be pretty informative.
| | | | |
| --- | --- | --- | --- |
| Poster: | snow_and_rain | Date: | Oct 28, 2011 11:37am |
| Forum: | occupywallstreet | Subject: | Re: Occupy Wall Street Teach-In Library |
Of course he can't give you any evidence. He only criticizes them because they have an Arabic name and because he's a racist.
| | | | |
| --- | --- | --- | --- |
| Poster: | dead-head_Monte | Date: | Oct 28, 2011 8:32am |
| Forum: | occupywallstreet | Subject: | Re: Occupy Wall Street Teach-In Library |
Re: "I find a mix of Wall Street Journal, BBC, NPR, and Aljazzeera to be pretty informative."

I agree. And I highly recommend:
Democracy Now! is a national, daily, independent, award-winning news program hosted by journalists Amy Goodman and Juan Gonzalez.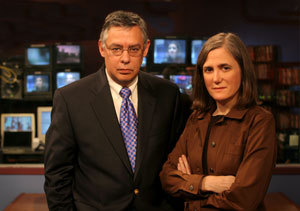 Pioneering the largest public media collaboration in the U.S., Democracy Now! is broadcast on Pacifica, NPR, community, and college radio stations; on public access, PBS, satellite television (DISH network: Free Speech TV ch. 9415 and Link TV ch. 9410; DIRECTV: Free Speech TV ch. 348 and Link TV ch. 375); and on the internet. DN!'s podcast is one of the most popular on the web.

Democracy Now!'s War and Peace Report provides our audience with access to people and perspectives rarely heard in the U.S.corporate-sponsored media, including independent and international journalists, ordinary people from around the world who are directly affected by U.S. foreign policy, grassroots leaders and peace activists, artists, academics and independent analysts. In addition, Democracy Now! hosts real debates – debates between people who substantially disagree, such as between the White House or the Pentagon spokespeople on the one hand, and grassroots activists on the other.

New stations are adding Democracy Now! to their programming schedules all the time, and there are several movements going on around the country right now to bring Democracy Now! to new communities. To find out more about these efforts, and how to get involved, click here.

WHY INDEPENDENT MEDIA ?

For true democracy to work, people need easy access to independent, diverse sources of news and information.

But the last two decades have seen unprecedented corporate media consolidation. The U.S. media was already fairly homogeneous in the early 1980s: some fifty media conglomerates dominated all media outlets, including television, radio, newspapers, magazines, music, publishing and film. In the year 2000, just six corporations dominated the U.S. media.

In addition, corporate media outlets in the U.S. are legally responsible to their shareholders to maximize profits.

Democracy Now! is funded entirely through contributions from listeners, viewers, and foundations. We do not accept advertisers, corporate underwriting, or government funding. This allows us to maintain our independence.
| | | | |
| --- | --- | --- | --- |
| Poster: | dead-head_Monte | Date: | Nov 5, 2011 8:36am |
| Forum: | occupywallstreet | Subject: | Re: Occupy Wall Street Teach-In Library |
The McClatchy Company
• http://www.mcclatchy.com/


Since 1857 - The McClatchy Company is the third-largest newspaper company in the United States, a leading newspaper and digital publisher dedicated to the values of quality journalism, free expression and community service. Building on a 154-year legacy of independence, the company's newspapers and websites are steadfast defenders of First Amendment values and advocates for the communities they serve.

Pulitzer Prizes awarded to McClatchy
• http://www.mcclatchy.com/2006/05/23/211/pulitzer-prizes.html
McClatchy investigations
- Googled for you
•
https://www.google.com/search?q=mc+clatchy+investigation